TOGAF Course Overview
Simplilearn's TOGAF 9.2 training is designed to meet the Open Group's requirements and give you all the tools to pass the exam. You'll learn the process-oriented approach for architecture development and how to provide strategic context to IT projects allowing you to make successful operational plans and informed business decisions.
TOGAF Training Key Features
54 hours of blended learning
TOGAF word puzzle and reference card
Open Group accredited course- Free exam retake*
134 end-of-chapter quizzes and two practice tests
Exam fee included
Skills Covered
Core concepts of TOGAF
Details of architecture governance
Adapting ADM architecture
Architecture maturity models
Architecture skills framework
Watch Intro Video
TOGAF Course Advisor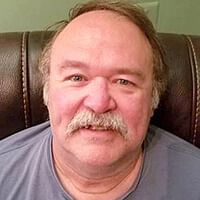 John Ghostley
IT Consultant, Enterprise ArchitectJohn Ghostley is a former CIO and has 30 years of hands-on experience in IT Strategic Planning, IT Architecture, IT Governance, IT business transformation and IT Service Management. He is certified in ITIL Expert, TOGAF 9, Cobit 5, an ISO 20000 consultant manager.
Benefits of TOGAF Certification in Enterprise Architecture
Listed here are some broad aspects of how TOGAF can benefit organizations.
Ease of Implementation
Ease of Use
Global Standard
Authentic
Procedural
Flexible
Versatility
Uses Tested Ideas – Open Systems Framework
Intelligent Procurement Specification
Popularity
No Dearth of Training
Freely Available Public Domain Material:
Frees Up Licensing Costs for Other Frameworks:
Up-To-Date Body of Knowledge
Open Systems Implementation
TOGAF for Organizational Improvement
Why should I get TOGAF certified?
For efficient utilization of the TOGAF framework, knowing how to beneficially implement TOGAF will prove profitable for organizations that wish to adopt this framework in its functioning, and TOGAF certified architects will continue to remain in high demand.
1. A certmag.com survey ranks TOGAF in the ninth position among the top 20 highest paying certifications in 2015. This is not surprising considering such organizations as IBM, HP, Oracle, Deloitte, Capgemini, CISCO and other leading giants are implementing TOGAF® methodologies to transform their businesses, thereby increasing the job opportunities and the subsequent demands for TOGAF certified architects
2.  Data from Indeed.com demonstrates why TOGAF is such a sought-after domain for certification by IT professionals
From these figures, it is clear that:
TOGAF professionals stand a great chance at breaking the $100,000 per year barrier
Professionals with a TOGAF certification are among the highest-paid professionals in the IT industry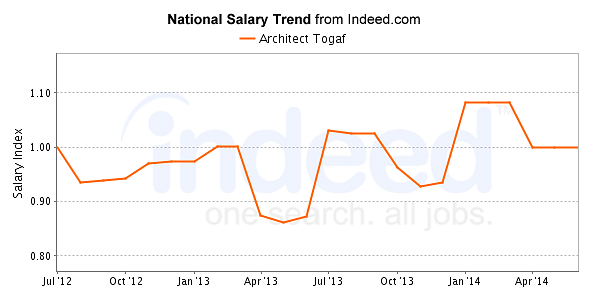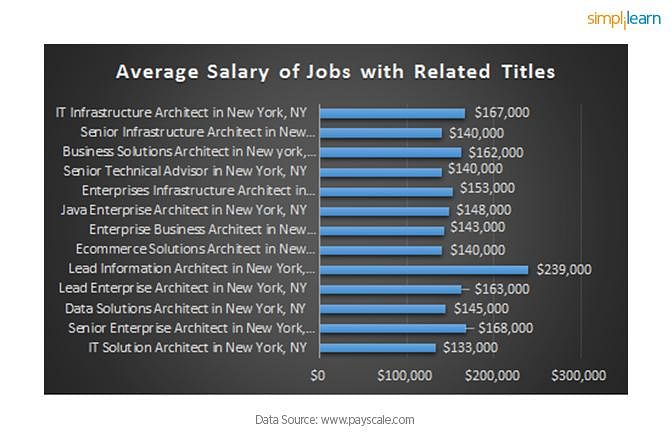 3.  A TOGAF certification enables professionals to acquire specific knowledge about the standard framework and methods of enterprise architecture and helps validate their proven knowledge of the framework.
4. The spectrum of skills that professionals can build and develop through TOGAF certification is also vast, and includes business skills comprising of business cases, processes, strategic planning, Enterprise Architecture skills comprising of modelling, system integration, applications, and role design, Project Management skills, certain legal knowledge into the data protection laws, contract law, procurement laws, etc., and also some of the generic skills such as leadership, team-building, and soft-skills.